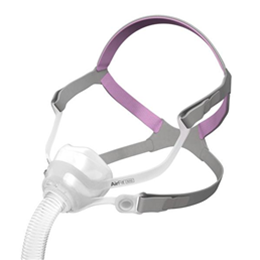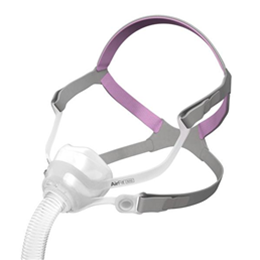 The AirFit™ N10 for Her delivers effortless performance, comfort and visual freedom, in a user-friendly design that features pink accents and a smaller size. It ranked as the overall first choice by patients when compared to industry-leading nasal masks.1
View more
The AirFit™ N10 for Her delivers effortless performance, comfort and visual freedom, in a user-friendly design that features pink accents and a smaller size. It ranked as the overall first choice by patients when compared to industry-leading nasal masks.1
With minimal parts, an intuitive key-clip cushion and EasyClick™ self-aligning headgear clips, it's easy to use and reassemble.
The modified dual-wall Spring Air™ cushion delivers a comfortable, high-performance seal.
The SoftEdge™ headgear features slimmed-down straps for greater comfort and fewer facial marks.
Circular diffused venting gently directs exhaled air away for a peaceful sleeping environment.
Its compact design and sleek under-eye frame provide a clear line of sight.
1 When compared to industry-leading nasal masks. ResMed® internal studies D632-105 August 2013 and D632-124 November 2013.